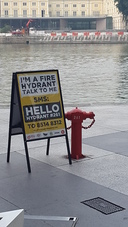 Dramatis Personae
Venue #HackerspaceSG a lamp post
Roland not a lamp post
Setting
An SMS conversation at 8514 8312
---
ROLAND
Hello venue #HackerspaceSG
HACKERSPACESG
Good morning. Thanks for waking me up, you're the first person I've spoken to. How would you use technology to make Singapore a better place?
ROLAND
Automate all work performed by foreign labourers.
HACKERSPACESG
I see. Someone told a friend "I would use technology to message and that makes singaporean a better place" Tell me this: Would you wear smart-goggles that showed you the price of everything? (not just things for sale)
ROLAND
No. That would be very distracting.
HACKERSPACESG
Interesting. Someone told a friend "Even other people's clothes?" Tell me this: How would you describe the people of Singapore?
ROLAND
Industrious
HACKERSPACESG
Right. Someone told a friend "We are generally well-behaved and adventurous. Some of us are boring and some of us are creative." I love talking to people, but I need to think about what you told me. Come back soon!
---
http://festivaloftech.sg/ #futsg #festoftech
Originally posted at https://rolandturner.com/2015/10/15/conversation-lamp-post